Donor Pledges $40,000 Match for Tobias-Zimmer Barn Project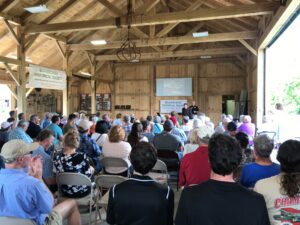 The Beavercreek Historical Society recently hosted a celebration on Sunday July 23 at Wartinger Historical Park to rededicate the Tobias-Zimmer Barn to the Beavercreek community. The original 1858 barn was destroyed in the 2019 tornadoes and a historically accurate rebuild was completed in 2022.
Festivities included free ice cream and historical cabin tours, and an interesting presentation highlighting Beavercreek's colorful history.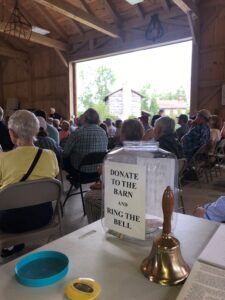 The event kicked off a fundraising campaign to add restrooms and a warming kitchen to the barn with the announcement of a $40,000 matching gift commitment from barn donor Bob Zimmer. Mr. Zimmer will match donations dollar-for dollar up to $40,000. For example, a $100 gift will be matched with a $100 gift, doubling the value of the original gift.
The addition of restrooms and a warming kitchen will increase the usability of the barn, making it a more attractive rental venue, with proceeds directly supporting the maintenance and operations of Wartinger Park. The restrooms will also be accessible to park visitors during park hours. The park currently does not have restrooms. The project will begin in August with the installation of the water/sewer line.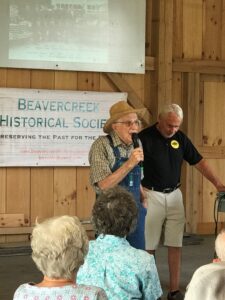 Donated to the park in 1996 by long-time Beavercreek residents Bob and Agnes Zimmer, the barn joined four early Beavercreek family historic cabins representing first settlers in the area: Philip Harshman, Samuel Ankeney, John Nicodemus, and George Jarusiewic. The Tobias-Zimmer Barn was added in 1996 to complete the representation of early life in Beavercreek.
The barn and cabins are open for touring during special park events, including the City's annual Winter Welcome set for December 15.
The Tobias-Zimmer Barn serves as a site for community and private gatherings, as well as an educational interpretive center for the Society's annual Living History Program which fulfills a state curriculum requirement by teaching local third-graders about Ohio life in the early1800s. Launched in 1993, the program has served over 15,500 Beavercreek school children.
Contributions to the Tobias-Zimmer Barn Fund can be made by check to Beavercreek Historical Society, 1368 Research Park Dr., Beavercreek, OH 45432, or by donating online at greenegiving.org. Please specify "Beavercreek Historical Society Tobias-Zimmer Barn."
The Society is always looking for descendants of early Beavercreek settlers.  Contact [email protected] for additional information.
Visit beavercreekohio.gov for barn rental information.
---
Volunteers Still Needed as of September 2023!
We're looking for volunteers to fill open positions within the Historical Society. If you are looking for something fun to do that will immerse you in the wonderful history of Beavercreek that will connect you to a group of engaged citizens, we would love to discuss the following roles with you!
Program Director and Special Events Coordinator – Vacant

Historical Buildings Director – Vacant

Publicity – Vacant
We appreciate member volunteers and rely on you to keep our Society active. If you are interested in any of these positions and/or volunteering in any capacity, please email [email protected] leave a message at 937-244-5958.
---
Read our most recent (Summer 2023)  Historical Society Newsletter  "Log by Log" or browse the entire archive of our newsletters!
---
Donation information
Donations to the Beavercreek Township Historical Society can be made via Greene Giving at https://greenegiving.ejoinme.org/donation
---
RECENT EVENTS:


---
YOU ARE INVITED!
 Beavercreek Historical Society Quarterly Meeting and Program April 25th at 7:00pm
Peace Lutheran Church Peace Lutheran Church 3530 Dayton-Xenia Road, Beavercreek
Come take a Walk Down Beavercreek's Memory Lane 
Join us for stories of the people, places, and things that built the Beavercreek Community—from Civil War panic to Prohibitionary tales to The Liar's Table!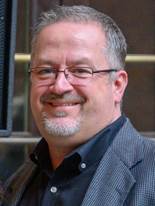 This unique program will be presented by our new History Center Director Brett Williford. A near lifelong resident of the Miami Valley, Brett moved to Beavercreek in the late 1990s and it quickly became "home." As a local Realtor® he grew to know and love our community, its people, and its history. During the market recession years of 2008-2014, he built an interactive tour of Beavercreek in his "ample spare time," The Beavercreek Heritage Trail. Brett now proudly serves as director of the History Center for the Beavercreek Historical Society.
A reading of The Beavercreek Chronicles with his son led him on a path of discovery to dive deeper into the structures, remnants, and families that made our community what it is today! His passion for the area is fueled by the stories and legends that echo within our borders—from fertile Native American hunting grounds to a hub of the early industry to the modern STEM municipality we enjoy today—Beavercreek offers something for everyone!
This program is free and open to the public. Bring a friend and join us for a fun evening of tall tales and short stories!
BHS Receives $5,000 grant award from Ohio Humanities Council
The national Coronavirus Aid, Relief and Economic Security (CARES) Act passed by Congress on March 27 was established to provide assistance to state, local, and tribal governments to help combat the far-reaching impacts of COVID-19. Funds appropriated included $75 million in emergency funding for the National Endowment for the Humanities, of which 40 percent was distributed to the 56 state and territorial humanities councils to support local economic relief efforts.
BHS was a recipient of this funding in the amount of $5,000 through the Ohio Humanities Council grant application program, and was one of 91 organizations in Ohio to receive an award. Funding will be used to help with History Center expenses, upkeep of the historical structures at Wartinger Historical Park, and the creation of a video version of the Living History Program.
About Ohio Humanities
Established in 1972, Ohio Humanities is a private nonprofit organization and the state-based partner of the National Endowment for the Humanities. Ohio Humanities promotes the humanities in Ohio through collaborations with cultural and educational institutions.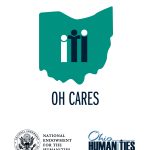 BHS Receives $500 from the Ohio History Fund
BHS is the recipient of a $500 gift grant from the Ohio History Fund COVID-19 Emergency Grant from the Ohio History Connection. This temporary grant program helps history organizations address the impact of the COVID-19 pandemic (www.ohiohistory.org/covidgrant).
The BHS request was one of 38 organizations funded out of 127 applications, and received the maximum award amount of $500 allowed for an organization of our size. These funds will be used together with the Ohio Humanities grant to create a video version of the Living History program.
The Ohio History Fund grants were made possible thanks to the support of the Ohio History Connection Foundation, the Conestoga volunteer organization dedicated to enhancing community support for the OHC, and private donors.
About Ohio History Connection
The Ohio History Connection, formerly the Ohio Historical Society, is a statewide organization with the mission to spark discovery of Ohio's stories. Chartered in 1885, the Ohio History Connection carries out history services for Ohio and its citizens focused on preserving and sharing the state's history. This includes housing the state historic preservation office, the official state archives, local history office, and managing more than 50 sites and museums across Ohio.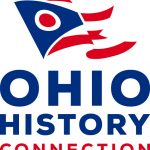 Annual Memberships run from January 1 – December 31 of each year. Now is the time to renew your membership. A New/Renewal Form can be downloaded at the Membership location under
Tab "About". Please forward the form with your check.
---
DONATIONS
We are always appreciative of donations to our organization. All donations are tax deductible as we are a recognized 501(c)(3) non-profit. Please send checks payable to Beavercreek Historical Society and mail with your contact information to: Beavercreek Historical Society, 789 Orchard Lane, Beavercreek, OH 45434. You may also donate online via Greene Giving at https://greenegiving.ejoinme.org/donation
Thank you for your support for our programs and our mission!