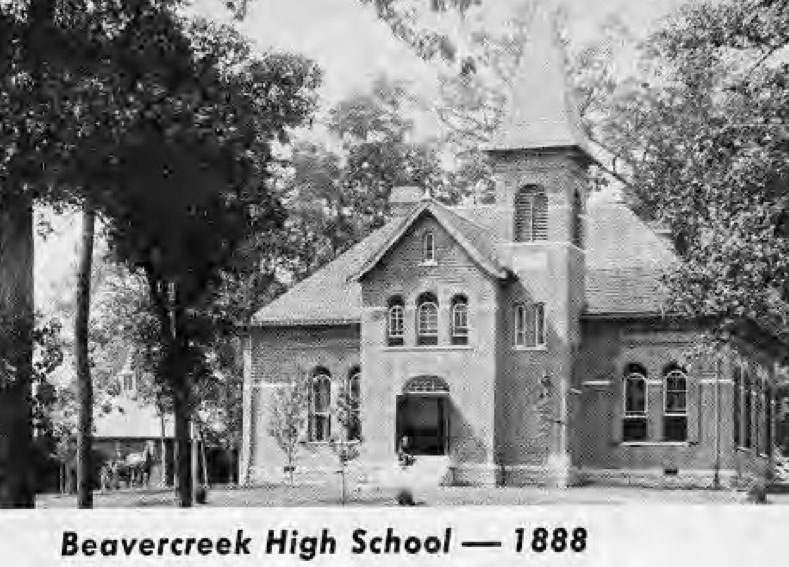 The First High School
By Laura Bader
In 1887 the need for a Beavercreek high school was readily apparent and in 1888 a large new brick school was completed on the southwest corner of Factory Road and Dayton-Xenia Road. It was recognized as being only the second high school in the state. See photo and note the horse and buggy in the background.
While the new high school was being built, classes were held in an upstairs room of the old Stage Coach Inn located just to the east near the corner of Beaver Valley Road and Dayton-Xenia Road. The enrollment was about 20 pupils and was to be only a temporary arrangement.
In the latter part of the year 1888 the pupils at the old Stage Coach Inn picked up their books, chairs and tables, and proudly marched up the road to the south room of the new brick building. Tables were spread out and each one accommodated four students. The following year desks were placed in the north room to accommodate the increasing enrollment. The south room was used for freshmen and sophomores; the north room was for juniors and seniors. A small room upstairs was known as the laboratory and was used for smaller classes. In 1914 two more rooms were added to the west end of the building.
In later years the growing population and increasing demands from the State Board of Education made this building inadequate in both size and equipment. In 1932 the entire school system was moved into a new centralized school located at the corner of Dayton-Xenia Road and Hanes Road. This particular building later became Main Elementary school when a new high school building was completed in 1954.
The original old high school building was then used by various businesses over the years. At first it was used as a residence with several apartments available. Later it was taken over by the local Marshall Brothers as a Studebaker dealership for sales and service. Sometime later several other businesses moved in including the Mead Company and Systems Research and Development.
Its last known usage was as a restaurant known as LaMachey's. However this business did not last long as a fire destroyed much of the interior and the decision was made to tear down the building.
Society member Harold "Bud" Filer salvaged some of the old bricks and eventually used them to construct a fireplace in the main room of the Ankeney House at Wartinger Park.
The site of the first high school is now occupied by Ritters Frozen Custard. We give special thanks to these citizens, some long time residents of Beavercreek, who shared their memories and stories of the old school: Robert Coy, Charles Durnbaugh, Harold Filer, Dawn Gilbert Jones, Everett Koogler, Phil Marshall, Jeanette Marshall Papaczik, and Lester Prether.